South
countryside and beach
Pick-up / Drop-off – Lisbon
NORTH and CENTER – BEACH AND COUNTRYSIDE, is an itinerary of beach and leisure, with cultural and gastronomic enhances of an unveiled inland. Starting at the magnificent Lisbon, this itinerary goes through some of the most beautiful coastal landscapes of the West Center Coast of Portugal, however, the trip inland, is a nice contrast to those looking for more than just beach. You´ll find a genuine Portugal, with marked traditions and stunning scenery.
1st Day
Head towards Batalha (means battle), founded by King D. João I of Portugal, jointly with the Monastery, to pay homage to the Portuguese victory at the Battle of Aljubarrota (1385). After head to Fátima, one of the most famous religious destinations in the world, The Sanctuary of Fátima, is the principal focus of visitors. Annually pilgrims regularly fill the country roads leading to the shrine. Numbers can reach hundreds of the thousands on May 13th and October 13th, the significant dates of the apparitions. In 2017 it´s the 100th anniversary of the apparitions and the Pope´s presence is expected.
Now drive to Ferreira do Zêzere, a geographic transition territory between Ribatejo and Beiras, between the flatlands and the pine forests of the interior. The county stands out for its natural beauty and landscape provided by the Zêzere River (Castelo de Bode Lake) and the wide forest that provides outstanding touristic potentialities. It has a diversified heritage in terms of archaeology, history, religion, architecture and culture.
Trízio will be your final stop. It is located next to Zêzere's Nautical Centre, with river beach, marina, camping, restaurant and a bar. It´s a place with a higher wakeboard tradition. Trízio offers calmness, stunning landscapes, sandy beaches and many activities.
1st overnight – Trizio
GPS: 39.72976, -8.23107
2nd Day
Here it´s where the journey through the River Beaches and the old Shale Villages starts. This region has hundreds of them.
First stop, Pedrogão Grande and Góis, a charming small mountain town between the Açor mountain and the Serra de Lousã mountain, with beautiful views and a lovely small church. Many like to spend their Sunday afternoons by the side of the river Ceira, it´s a pleasant place to picnic, swim and canoe.
Continue your journey North towards Arganil, one of the most beautiful Portuguese counties, with river beaches, waterfalls, typical gastronomy, historical heritage and hiking routes. After, you have the beautiful village of Coja, a 13th century village with a cultural and historical heritage, an amazing river beach; place of extreme beauty and calmness.
To overnight, you´ll stay in Barril de Alva, just by the river Alva. The village is quiet and is well equipped in terms of Camper vanning, with a beach, eating park, green areas and welcoming population.
While driving North, around the Serra do Açor hills, we are not only charmed by the majesty and purity of the landscape, but we are also overcome with curiosity and impatience. Piódão stubbornly remains hidden so that it can then astound us with its architecture, which is such a good example of Man's ability to adapt harmoniously to the most inhospitable but sublime places. Like a crib, the Shale Houses stand along the terraces of the slopes, which show blue and schist between narrow winding streets.
Now head to Serra da Estrela, the highest mountain range in Continental Portugal with its highest point at 1.993 meters (6.539 feet) above sea level. This point is not a distinctive mountain summit, but rather the highest point in a plateau, being known as Torre ("Tower" in English). There is a ski resort at the summit, named Vodafone Ski Resort. The mountain range, situated between the municipalities of Seia, Manteigas, Gouveia, Guarda and Covilhã, is about 100 kms (60 miles) long and is 30 kms (19 miles) across at its widest point. It is formed from a huge granite ridge that once formed the southern frontier of the country. Due to its bizarrely shaped crags and gorges, mountain streams and lakes, beautiful forests and magnificent views, the area ranks among Portugal's outstanding scenic attractions.
The next stop is at the foot of the beautiful Vale do Zêzere. With high peaks and forest-draped slopes dominating the horizon in all directions, Manteigas feels more like a true mountain town than any of the other major Serra da Estrela gateways. There has been a settlement here since at least Moorish times, probably because of the nearby Caldas of Manteigas hot springs. Manteigas makes an excellent base for hikers looking to explore the region. Walk through the glacial valley above town and you'll still encounter terraced meadows, stone shepherds' huts and tinkling goat-bells, while in Manteigas itself, cobblestone streets and older homes still hold their own against the high-rise development that has taken root on the Serra's fringes.
Next stop and overnight place is Aldeia Viçosa. It has very good facilities, such has playground, sport facilities, bar, pool and waterslide and plenty of green spaces.
2nd overnight – Aldeia Viçosa
GPS: 40.57992, -7.30794
3rd Day
Heading South will undergo Vila Nova de Milfontes, located in the estuary of the Mira river, which gives shelter to several species of birds and marine life, and Zambujeira do Mar, where in August is held the Southwest Festival, the largest music festival during the summer.
Next stop Castro Verde, a small agricultural town that owes its name to an old prehistoric Castro. You should visit Castro Verde on the 3rd Sunday of October to visit the agricultural and craft fair that dates back to the 17th century. It is very well-known and every year attracts thousands of visitors. Also, very interesting to see is the Basilica, covered from top to bottom with magnificent hand painted tiles. The panels of the upper section of the basilica, depict scenes of the battle of Ourique, a town 14 kms away, where Afonso D. Henriques, routed the Moors and was proclaimed King of Portugal.
Then visit Mértola village, an important river port from the 11th century, rising it´s castle in a dominant position on one of the Guadiana river stretch. Its importance was such, that during a short period in the 11th century was the capital of a small independent Islamic Emirate.
After, you´ll spend the night at the river beach of Tapada Grande – Mina de São Domingos. The beach is simply wonderful. It is equipped with a cafe/restaurant with terrace and picnic tables right near the beach, so you don´t have to walk far. The overnight parking for Motorhomes is 100 meters from the beach and has very good condition.
3rd overnight – PE-TP Praia Fluvial Mina de São Domingos – Tapada Grande
GPS: 37.672309, -7.504258
4th Day
The first stop will be on the Alqueva Lake, the largest artificial lake in Western Europe. It was constructed for the purpose of irrigation of the entire region and production of electricity, in addition to other complementary activities.
Today, the Alqueva Lake is used for boating, water sports and it is an ideal area for Stargazing, because of its total absence of light pollution. In its margins, we can visit places like Luz, Mourão, Monsaraz, among others.
Monsaraz, known locally as Ninho das Águias (Eagles' Nest) – is perched high above the border plains, a tiny village nestled into fortified walls close to the Spanish border. The views from the walls are magnificent: to the north and west, you survey a typically flat Alentejo plain of vineyards and olive groves, while to the south and east a watery expanse glitters far below the village, part of Europe's largest artificial reservoir behind the dam at Alqueva.
The village does its best to attract visitors with a series of little galleries, craft shops and restaurants, but it's really the castle, the higgledy-piggledy streets and stunning views that keep people coming.
Four thousand years ago, the region around Monsaraz was an important centre of megalithic culture, and various dolmens (covered temples or tombs), menhirs (standing stones) and stone circles survive today. An hour and a half's driving circuit takes in most of these, and if you throw in lunch and a vineyard visit at nearby Reguengos that's a good day out. Don't miss a small village called São Pedro do Corval, masters of traditional hand painted pottery.
The final site for this day is the city of Évora. Its historical, well preserved center, is one of Portugal richest in terms of monuments, which gave the name of the City Museum, and since 1986, declared World Heritage by UNESCO. The city is surrounded by a wall, protecting its cultural heritage. The local gastronomy and wineries are reasons why the city is called the "Alentejo Capital".
4th overnight – PE Évora
GPS: 38.576423313822275, -7.914415569482458
5th Day
First stop of the day, Estremoz, lies in the center of a district rich in marble quarries – so much so that the material is used extensively in the most commonplace surroundings, as you'll see when you wander its marble-clad streets and squares. It was once an important border settlement where Dom Dinis, an early monarch who set about fortifying Portugal's frontiers, chose to locate his hilltop palace. Meanwhile, down in the lower town, the vast main square known as the Rossio – properly, the Rossio Marquês de Pombal – has long been the site of one of Portugal's finest markets, held every Saturday. It starts and finishes early, so it pays to stay over in town on Friday night if you can.
The attractive hilltop town of Elvas, was once one of Portugal's mightiest frontier posts, strategically positioned just 15km from Spanish Badajoz, to the east across the Guadiana River. Its star-shaped walls and outlying forts are among the best-preserved military fortifications in Europe, a factor that subsequently helped gain the town UNESCO World Heritage status. Its military significance long past, and down to a population of around 25,000, it looks largely to tourism these days – Spanish day-trippers pop over to climb the steep cobbled streets and sit in the restored central square, while the vibrant Monday market (held on alternate weeks) is a big attraction, held just outside town behind the aqueduct. Otherwise, the town's main annual bash is its week-long Festa de São Mateus, starting on September 20 and including the largest procession in southern Portugal.
By the time, you've negotiated the winding road up to Marvão you're ready for sensational panoramas, and the remote border outpost doesn't disappoint. From the dramatically sited rocky outcrop high above the undulating mountain, there are unbeatable views, while within a complete circuit of seventeenth-century walls lies a higgledy-piggledy town of fewer than a thousand residents, inhabiting neat houses with granite windows and pitched red roofs.
5th overnight – PE Marvão
GPS: 39.3941, -7.37347
6th Day
First stop of the day, the small town of Castelo de Vide, throws up one of the nicest surprises in the Alentejo. A castle rises up above a fairy-tale townscape of bright white houses, while steep cobbled streets and placid squares are lined with well-watered pots of geraniums, tumbling house plants and two-meter-high sunflowers. Mineral springs pepper the local hills and the town is full of public fountains in gleaming squares and shaded gardens. It's one of those places that begs an aimless, meandering stroll, and it's very easy to find you've spent a couple of days here doing not very much at all quite happily.
Now head towards Nisa. Considered by an American magazine as one of the best in the world, the Cheese of Nisa is the most recognized and appreciated cheese of the Alentejo. Cured, semi-hard and a color between white and yellow, of handicraft production, it is made with raw milk of ewes of the local Merina Branca breed, coagulated with thistle and follows a process of slow draining of the curd and subsequent maturation, done in three distinct phases, during 45 days.
Situated in the borderline of Ribatejo and Alentejo regions, Ponte de Sôr is an essentially agricultural council. Cattle breeding, olive and cork production provide important revenues. It is one of the less populated zones of Central and South Portugal. It is possible to travel many miles without seeing one or two farms. Located in the middle of Sôr river stream, Montargil dam, mainly conceived for agricultural purposes, has created a vast reservoir. Nowadays, it is an area ideal for leisure, fishing and nautical sports that attracts many visitors.
Montargil is a true waterside resort where you can participate in waterskiing, sailing, windsurfing, rowing, trips in a hovercraft and sports fishing. The Maranhão reservoir, today provided with a leisure complex integrated within the new municipal Camping Park, is yet one more Alentejo location intimately associated with heritage. Overlooking the lake rises the town of Avis, with a historical centre which certainly deserves a visit.
6th overnight – PE Fluviário de Mora
GPS: 38.95424, -8.10757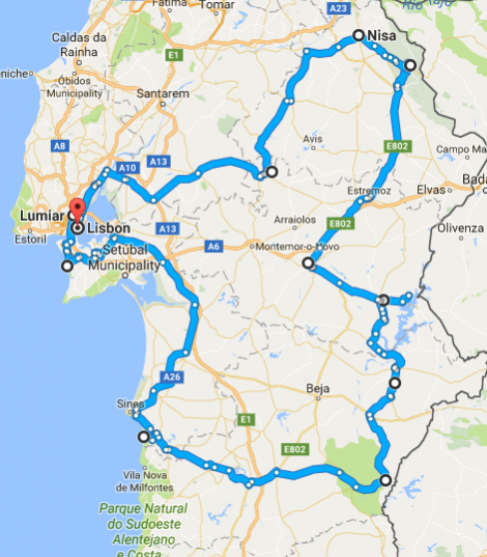 ENOTOURISM
In order to better understand the Portuguese Wines, visit the vineyards, the palaces, the cellars, the gardens, the art, and experience wine tasting on some the best wineries of the different regions. We´ll book your visit.
ÉVORA – Tour and wine tasting at Adega da Cartuxa
EA – includes visit to the Cellars and Vineyard and wine tasting – 1 wine selection by the Eugénio de Almeida Foundation.
Price: € 5.00 p/person;
Cartuxa – includes visit to the Cellars and Vineyard and wine tasting – 3 wine selection by the Eugénio de Almeida Foundation.
Price: € 10.00 p/ person;
São Bruno – includes visit to the Cellars and Vineyard and wine tasting – 3 wine selection by the client, of all the Eugénio de Almeida Foundation range (except Pêra-Manca Red). Price: € 20.00 p/ person (*);
Sto. Inácio de Loyola – includes visit to the Cellars and Vineyard and wine tasting – 5 wine selection by the client, of all the Eugénio de Almeida Foundation range (except Pêra-Manca Red). Price: € 30.00 p/ person (*);
(*) According to wine availability.
ESPORÃO – Tour and wine tasting at Adega – Herdade do Esporão
Located in the heart of the Alentejo and part of the Wine Route, the doors at Herdade do Esporão are open to visitors, every day.
Visit the vineyards, the kitchen gardens and ampelographic field; travel back in time, discovering the history of Defesa do Esporão and the objects found at the Perdigões Archaeological Complex. Or simply take a break to try regional products, to unveil the secrets of how we make our wines on a visit to the wineries and cellars, and to challenge your senses with a tasting at the wine bar.
Guided tour of the Wineries and Cellars with classic tasting of 2 wines, Defesa White e Defesa Red
Price: € 6.00 p/ person;
Guided tour of Wineries and Cellars with tasting of 4 wines: Alentejo vs Douro Selection – Defesa Red and Esporão Reserve Red versus Assobio Red and Murças Reserve.
Price: € 15.00 p/ person
Guided tour of Wineries and Cellars with tasting of 4 wines: Varietals vs Blends – tutored tasting of one single varietal white and one single varietal red versus Defesa White and 4 Castas.
Price: € 15.00 p/ person
PRICES
Low Season: November, December, January e February.
Medium Season: October, March, April e May.
High Season: June e September.
Peak Season: July e August.
Fiat Ducato L2H2 Campervan - 5pax
| | |
| --- | --- |
| Low | 896€ |
| Medium | 1016€ |
| High | 1.136€ |
| Peak | 1.316€ |
The prices are per Campervan and include:
Campervan delivery at Lisbon Airport;

Detailed explanation of how the Campervan operates;

Information about the different activities and experiences at the client's disposal;

6 nights of Campervan rental, with capacity for 5 people (we recommend 4);
.
Basic Equipment
5 seats with safety belts

2 double beds (length 188 cm – width 120 cm), 1 removable single bed (length 185 cm – width 70 cm) 

Interior Bathroom Specs: washbasin / hot water shower / chemical toilet 

Kitchen Specs: sink / 2 burner gas stove / 80 litre fridge / table for 5 people / complete kitchen utensils 

Rotating front seats, 160 litres clean water tank, 100 litres dark water tank, Electricity 12V / 220V 

First Aid Kit, Fire extinguisher, Security safe, Many storage compartments
.
Extra equipment
2 Bed Kits for 2 (pillows, duvets and cover sheets) 

4 Towel Kits for 4 (shower and hand towels)

Outdoor Table and Seats 

Barbecue

4 Relax Chairs

WI-FI Router (4GB included)).

24/7 roadside assistance and 24/7 phone assistance;

ULTRA Insurance Protection, that includes Windows Insurance, Passengers Insurance, Drive Outside Portugal, Unlimited Kilometers and allows Up to 5 Drivers;

Campervan return at Lisbon Airport;
SUPLEMENTS
SOUTH – COUNTRYSIDE AND BEACH itinerary, contemplates free overnight locations, chosen by our team and unique experiences for the client. However, if you prefer to overnight in a campsite, here are our suggestions:
1st overnight – CAMPSITE – Parque Orbitur Costa de Caparica
2nd overnight – CAMPSITE – Parque Campismo Porto Covo
3rd overnight – CAMPSITE – PE-TP Praia Fluvial Mina de São Domingos (no Campsite around the area)
4th overnight – CAMPSITE – Parque de Campismo de Évora
5th overnight – CAMPSITE – Parque Campismo Quinta do Pomarinho
6th overnight – CAMPSITE – Parque Orbitur Montargil
.
Campsites overnight have an average additional price of 48,00€ (daily average, Campervan plus 4pax)
ACTIVITIES
Have fun during the holidays and take the opportunity to experience some of the activities that we offer you. We can book for you; just show up at the scheduled date and hour and enjoy the most.
| | |
| --- | --- |
| Skydive at Évora | starts at 149,00€ |
| Surf Lessons at Caparica and Melides | starts at 55,00€ |
| Ballooning at Coruche and Beja | starts at 150,00€ |
| Water Sports at Alqueva | starts at 30,00€ |
The prices of the activities are per person.